Świat według Bundych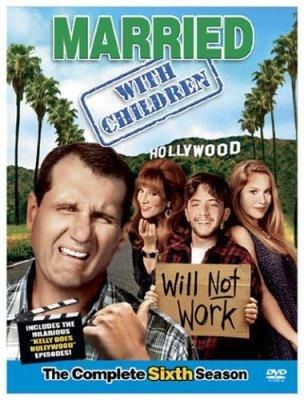 "Świat według Bundych" (Married... with Children) to amerykański serial komediowy, opowiadający o losach chicagowskiej rodziny nieudaczników o nazwisku Bundy. Premiera w USA miała miejsce 5 kwietnia 1987 roku na kanale Fox, a emisję zakończono po 10 latach - w roku 1997. W Polsce mogliśmy oglądać ten serial na stacji Polsat.
Wzorcowy serial w krzywym zwierciadle prezentujący życie typowej amerykańskiej rodziny, której jedynym żywicielem jest wiecznie niezadowolony sprzedawca butów, Al Bundy (Ed O'Neill). Jedynym źródłem jego fascynacji jest jego stary dodge, a czas wolny marnotrawi oglądając telewizję i pijąc piwo na kanapie. Małżonka Ala, Peggy (Katey Sagal) całymi dniami przesiaduje przed telewizorem, oglądając "The Oprah Winfrey Show", i "The Phil Donahue Show" spożywając jednocześnie z przejęciem popcorn i czekoladki, paląc przy tym papierosa za papierosem. Al i Peggy mają dwójkę nastoletnich dzieci - Buda (David Faustino) oraz Kelly (Christina Applegate). Jak na stereotypowe rodzeństwo przystało, nie przepuszczą żadnej okazji, aby wzajemnie sobie dokuczać czy donosić na siebie. Oboje dojrzewają w czasie trwania serialu.
Przez wszystkie sezony, rodzinie Bundych towarzyszy dwójka sąsiadów: Marcy (Amanda Bearse), ze swoim pierwszym mężem, Steve'em Rhoadesem (David Garrison), a potem z Jeffersonem d'Arcym (Ted McGinley). Marcy jest przyjaciółką Peggy, natomiast bardzo nie lubi Ala. Z kolei ten utrzymuje dobre stosunki z mężami Marcy, szczególnie z Jeffersonem, gdyż pierwszy mąż Marcy, Steve raczej nie wykazywał wobec Bundych sympatii.
Przez wiele lat w samej Ameryce serial wzbudzał niezwykłe kontrowersje. Znalazł jednak szeroką rzeszę fanów nie tylko w USA, ale także w innych krajach na całym świecie, w tym w Polsce.
"Świat według Bundych" jest obecnie jednym z najdłuższych seriali telewizyjnych, gdyż liczy 11 sezonów, łącznie 260 odcinków plus dwa specjalne. Jest najdłużej emitowanym serialem, któremu nie udało się zdobyć nagrody Emmy.
Tytuł oryginalny
Gatunek
Kraj produkcji
Czas trwania odcinka
Reżyser

John Sgueglia

Tony Singletary

Linda Day

Gerry Cohen

Amanda Bearse

Brian Levant

Bill Brown

Muzyka

Shawn K. Clement

Michael Andreas

Jay Gruska

Scenarzysta

Russell Marcus

Bill Prady

Stacie Lipp

Michael G. Moye

Ron Leavitt

Paul Diamond

Pat Allee

Richard Gurman

Al Aidekman

Chip Johannessen

Eric Abrams

Matthew Berry

Steve Bing

Operator
Obsada

Chris Langham (Ochroniarz lotniska)

Gene LeBell (Black Ben/Brutus/Larry)

Geoff Pierson

Biff Yeager

Traci Bingham (Tancerka)

Linda Dona (Tawny)

David Carrera

Kim Morgan Greene

Rochelle Swanson (Kobieta)

Charlie Brill

Cheryl Rhoads (Rachel)

Hannah Eckstein (Joy)

Jack Jozefson

Coleen Maloney (Marie Privett)

Sandra Taylor (Naomi)

Joshua Beckett (Scott)

Kirsten Holmquist (Breezy)

Lynsey Bartilson (Megan)

Rob LaBelle

Dan Gauthier

Lauren Hays (Susie)

Jennifer Blanc

Andrea Elson

Tommy Perna

Jennifer Echols

Jeanine Jackson

Mark Lindsay

Tawny Kitaen

Cindy Margolis

Dave Florek

Teresa Parente (Miranda)

Tom McCleister (Ike)

Dan Tullis (Officer Dan)

David Garrison (Steve Rhoades)

Bruce Jarchow

Beth Broderick (Panna Penza)

Andrew Masset

Krista Allen (Crystal Clark)

Juliet Tablak (Amber)

E.E. Bell (Bob Rooney)

Ted McGinley (Jefferson D'Arcy)

Carrie Genzel

Petra Verkaik

Eva La Rue

Joyce Brothers

Hunter Carson

F. William Parker

Jerry Hall

Nicholas Brendon

John Apicella

Lorna Scott

Jamie Luner

Randall "Tex" Cobb

Rosa Blasi

Ben Stein

Derek McGrath

David Faustino (Bud Bundy)

Dion Anderson

Ann Nelson

Sean O'Bryan

John Ashker

Fitz Houston

Lisa Robin Kelly (Carol / Heather Talrico)

Estelle Harris

Eric Dane

Liz Vassey

Andrea Parker

Aron Kincaid

Jonathan Mangum

David Leisure

Carmen Zapata

Ernie Sabella

Andy Milder

Renee Tenison

Ava Fabian

Stacy Ferguson (Ann)

Charles Howerton

Terry Bradshaw

Jenna Mattison

JD Cullum

Frank Noon

Julie Condra (Becky / Crystal Brooks)

Donna D'Errico

Todd Susman

Jake Johannsen

Joe Davis

Steve Valentine

Candice Azzara

Debbie Lee Carrington

Jack Kenny

John Wesley

Tim Kazurinsky

Richard Kline

Jan Hoag

Amanda Bearse

John Byner

Tiffani Amber Thiessen (Heather McCoy)

Kimberly Brooks

Ian Ziering

Holly Fields

Mandy Levin

Leah Ayres

Stan Ivar

Harold Sylvester (Griff)

Edward Hibbert

Diane Delano

Don Dowe

Kimmy Robertson

Phil Buckman

Gretchen Palmer

Catherine Carlen

Gilbert Gottfried

Bobbie Phillips

John Mariano

Carmen Filpi (Codger)

Joe Farago

George Wyner

Winifred Freedman

Garrett Morris

Danny Bonaduce

Vene L. Arcoraci

Billy Beck

Jennifer Banko

Helen Siff

Kym Whitley

Wanda Acuna

Matt Winston

Sam McMurray

Bill Erwin

Mark L. Taylor

Bob Minor

Rebecca Cross

Patrika Darbo

Paddi Edwards

Larry Bagby

Bodhi Elfman

Lewis Arquette

Rachel Winfree

Diana Bellamy

Howie Long

Marianne Muellerleile

Larry Hankin

Hill Harper

Perry Anzilotti

Elaine Hendrix

Alun Armstrong

Peter Jason

Pauly Shore

Tony Cox

Kevin Thompson

Tina Louise

Sonya Eddy

Tim Maculan

Alan Oppenheimer

Thomas Hill

Damian Chapa

Tim Conway

Chris Young

Deron McBee

Pamela Anderson

Nicole Eggert

Frank Lloyd (Norris)

Jeff Bennett

Morgan Brittany

Brian Reddy

Craig Sheffer

Lynn Ann Leveridge

John Dennis Johnston

Alan Thicke

Kathleen McClellan

Robert Englund

Irwin Keyes

Chris Hardwick

Steven Hack

Ritchie Montgomery (Emcee)

Jennifer Aspen

Gary Coleman

William Utay

Barry Shabaka Henley

Phill Lewis

Mary-Pat Green

Traci Lords

Ian Gomez

Christina Moore

Andrew Kavovit

Debra Christofferson

Venessia Valentino

Gary Grubbs

David Pressman

James Lashly

Richard Paul

Don Novello

Abraham Benrubi

Barbara Alyn Woods (Vicky)

Robert Lesser

Steve Susskind

Stephen Dorff

Rusty Schwimmer

Keri Russell

Lee Arenberg

Dennis Holahan

Katey Sagal (Peggy Bundy)

Richard Moll

Dean Norris

John Randolph

Ron Perkins

David L. Lander

John Patrick White

George Plimpton

Pat Morita

Brandy Ledford

Charles Esten

Shaun Toub

Mary Stein

Rance Howard (Reverend / Edwin)

Melissa De Sousa

Beau Billingslea

Louis Mustillo

Rena Riffel

Rick Overton

Earl Billings

George Marshall Ruge

Geoffrey Scott

Janet Carroll

Joey Lauren Adams

Marco Sanchez

Lisa Arturo

Ed O'Neill (Al Bundy)

Kari Wuhrer

Joel Gretsch

Chris Elwood

Heidi Mark

Christina Applegate (Kelly Bundy)

Anthony James

Clint Howard

Patrick Cranshaw

Susan Varon

Milla Jovovich

Bill Kalmenson

Casper Van Dien

Greg Lewis

Linda Blair

Annie O'Donnell

Waylon Jennings

Gerald Emerick

Shirley Prestia

Chi McBride

Corinne Reilly

Lillian Adams (Mrs. Mariner)

Thomas Ian Nicholas

Jesse Borrego

Joseph Bologna

Melanie Chartoff

B.B. King

Patricia Belcher

Leland Orser

Lisa Boyle

Andrew Prine

Michael Clarke Duncan

Matt LeBlanc

Cheech Marin

Roy Jones Jr.

Tom Tully

Vito D'Ambrosio

Fred Willard

Jane Lynch

Mark Addy

Mink Stole

Wendie Jo Sperber

Dylan Kussman

William Sanderson

Giovanni Ribisi

Bill Maher

Joseph D. Reitman

Julie Benz

Timothy Omundson

Allan Trautman

Corey Feldman

June Foray

John Mallory Asher

Jon Lovitz

Joe Flaherty

Aaron Lustig

Brian George