Dynastia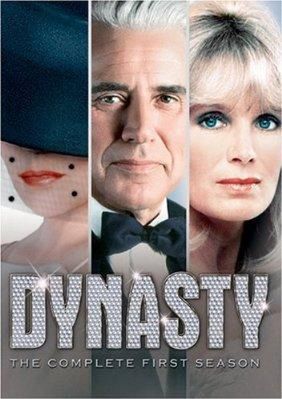 "Dynastia" to sztandarowe dzieło telewizji amerykańskiej lat 80, jedna z najpopularniejszych, najsłynniejszych wysokobudżetowych oper mydlanych w historii telewizji amerykańskiej i swoim gatunku. Amerykańska premiera miała miejsce 12 stycznia 1981 roku na stacji ABC, natomiast w Polsce, pierwsza emisja nastąpiła w TVP1 2 lipca 1990 roku. Poza tym "Dynastię" mogliśmy oglądać także na kanale Polsat2 oraz w telewizji Dla Ciebie z pakietu Polsat Cyfrowy.
Serial przedstawia sagę rodu potentatów naftowych z Denver, Carringtonów. Blake Carrington (John Forsythe) poznaje uroczą Krystle (Linda Evans). Zakochują się w sobie. Bardzo szybko biorą huczny ślub. Życie wśród bogaczy nie oszczędza skromnej Krystle. Blake miał już kiedyś żonę, demoniczną Alexis. Bogacz obdarowany był również dwójką dzieci: rozpieszczoną córką Fallon (Pamela Sue Martin/Emma Samms), która zrobi wszystko by zniszczyć Krystle, i synem Stevenem (Al Corley/Jack Coleman), który jest gejem z problemami osobowościowymi. Alexis również nie lubi nowej żony Blake'a i pewnego dnia powraca, by zniszczyć swojego pierwszego męża i przy okazji zagarnąć jego majątek.
W późniejszych latach okazuje się, że Blake ma jeszcze dwójkę dzieci: porwanego w dzieciństwie syna Adama (Gordon Thomson) oraz porzuconą przez pierwszą żonę Blake'a córkę Amandę (Catherine Oxenberg/Karen Cellini). Fabuła serialu, oprócz wątków rodzinnych, porusza także problem rywalizacji o władzę i pieniądze pomiędzy rodem Carringtonów i Colbych - magnatów naftowych, a także o ich skomplikowanym życiu, intrygach i seksie.
"Dynastia" emitowana była przez 9 sezonów, raz w tygodniu w amerykańskiej telewizji ABC, w porze wieczornej, najwyższej oglądalności (tzw. primetime). Serial liczy łącznie 220 odcinków, każdy trwający po 46 minut. "Dynastia" była konkurencyjnym odpowiednikiem legendarnego serialu "Dallas".
W roku 1991 roku, wyemitowano czterogodzinny miniserial "Dynastia: Pojednanie", ("Dynasty: the Reunion"). Pierwszy z dwóch odcinków, trwających po 120 minut, oglądały miliony Amerykanów, Natomiast finalny odcinek obejrzała zaledwie garstka fanów. Głównym powodem był fakt, że twórcy, nie rozwiązali wszystkich zagadek "Dynastii", oraz brakowało wszystkich kluczowych bohaterów.
Tytuł oryginalny
Gatunek

dramat, obyczajowy, serial

Kraj produkcji
Czas trwania odcinka
Reżyser

Nancy Malone

Richard Kinon

Bruce Bilson

Don Medford

Philip Leacock

Burt Brinckerhoff

Georg Stanford Brown

Bob Sweeney

Curtis Harrington

Jerome Courtland

Gabrielle Beaumont

Gwen Arner

Jeff Bleckner

Kim Friedman

Ralph Senensky

Robert Scheerer

Irving J. Moore

Alf Kjellin

Muzyka

Fred Steiner

David John

Dennis McCarthy

Gerald Fried

Lance Rubin

Mark Snow

Ken Harrison

Richard Lewis Warren

Angela Morley

Bill Conti

Scenarzysta
Operator

Richard L. Rawlings

Michel Hugo

Obsada

John Saxon

Barbara Stanwyck

Robert Davi

Rance Howard

Kabir Bedi

Rock Hudson

Donna Evans

Tom Ohmer

Gregory Walcott (Marksman)

Robert Crow

Shaun Duke

Billy Campbell (Luke Fuller)

Daniel Davis

Christopher Neame

Jack Coleman (Dr Eric Jordan)

Brett Stimely (Bagażowy)

Jill Andre (Pielęgniarka Johnson)

F. William Parker

Andrew Masset

Tom Schanley

George Hamilton

Michael Yama

Richard Yniguez

Joan Collins (Alexis Carrington Colby)

Billy Dee Williams

Natalia Nogulich

Don Baker

Christopher Cazenove

Terri Garber

Casey Sander

Michael Praed

Michael Durrell

Neil Dickson

Richard Dano

William Bassett

Kathryn Leigh Scott

Ferdy Mayne

Russell Johnson

Rick Fitts

Helaine Lembeck

R.J. Adams

Jack Axelrod

Peter Mark Richman

Brian Avery

Ali MacGraw

Lloyd Bochner

Norman Alden

Kevin McCarthy

James Farentino

Richard Hatch

Mark Patrick Costello

John Larch

Michael Nader (Dex Dexter)

Robert Hooks

Bradford Dillman

James Karen

Clayton Landey

Paul Shenar

Jay Arlen Jones

Curtis Taylor

Anthony Zerbe

Stephanie Beacham

Concetta Tomei

Joanne Linville

Theodore Bikel

Earl Boen

Ron Perkins

Molly Cheek

Bruce Gray

Ian Abercrombie

Matthew Lawrence

Virginia Gregg

Peter White

Diana Bellamy

Lloyd Haynes

John James (Jeff Colby)

Geoffrey Scott

Carole Cook

Lawrence Pressman

Kieu Chinh

Don Diamond

John Randolph

Anne Haney

Bibi Besch

Clive Revill

John Reilly

George Murdock

Al Corley

Gordon Thomson (Adam Carrington)

Michael Gregory

Jon Cedar

Bo Hopkins

Alan Fudge

Christopher Kriesa

David Spielberg

Drew Snyder

Wolf Larson

John Forsythe (Blake Carrington)

Dan Priest

Jonathan Goldsmith

Kevin Conroy

Stephen Nichols

Emma Samms (Fallon Carrington Colby)

Bradley White

Richard Herd

Robert Dowdell

G. Michael Gray

Liam Sullivan

Milton Selzer

Richard Lawson

Clyde Kusatsu

Brion James

Kimberly Beck

Jesse D. Goins

Michael Paul Chan

Jeff Celentano

Connie Sawyer

Robert Cornthwaite

George P. Wilbur

R.G. Armstrong

Michael Fairman

James Hong

Beau Billingslea

Lynne Marie Stewart

William Woff

Doris Singleton

Shay Duffin

Ellen Geer

Wendy Kilbourne

Harry Andrews

Ellen Crawford

Richard Anderson

Herman Poppe

Neva Patterson

Philip Abbott

Kerry Armstrong

Tim O'Connor

John Brandon

Ken Howard

Maxwell Caulfield

Barbara Tarbuck

Viveca Lindfors

Peter Kwong

Claire Yarlett (Bliss Colby)

Nicholas Pryor

Conrad Bachmann

Diahann Carroll

Madison Mason

Rachel Ward

Robert Clotworthy

John McLiam

Carol Locatell

David Hedison

Helmut Berger

Juliet Mills

Kathleen Beller

Lurene Tuttle

Ricardo Montalban

Harvey Jason

Diana Douglas (Pani Blaisdel)

Michael Ensign

Linda Thorson

Arlen Dean Snyder

Henry Darrow

George DiCenzo

Del Zamora

Linda Evans (Krystle Carrington)

Heather Locklear (Sammy Jo Dean Carrington)

Brian Dennehy

John McCook

Catherine Oxenberg (Amanda Bedford Carrington)

Pamela Sue Martin (Fallon Carrington Colby)

Jack Coleman (Steven Carrington)

Tom Everett

Belinda Montgomery

Chuck Wagner

Ted McGinley

Kale Browne

Patricia McPherson

Robert Clarke

Christopher Allport

Lee Bergere